Image
Get The Best In Termite Protection For Your Home!
Serving Western Pennsylvania
Termite Exterminator in Pittsburgh and Nearby Areas
Termites cause over $5 billion in damages to homes across the nation every year and can make your home dangerous to live in. To make matters worse, most homeowners insurance doesn't cover termite damage, meaning you'll be paying out of pocket. Trust Witt Pest Management of greater Pittsburgh, PA, to protect your home and your wallet with our termite treatments. 
About our Termite Control and Prevention Service
The signs of a termite infestation are difficult to notice and can remain undetected, especially if you don't know what to look for. This lets termites eat away at your home and cause structural damage. To prevent this, our termite treatment combines reactive extermination and proactive control treatments to eliminate termites once and for all and prevent them from coming back!
With over 100 years of experience dealing with termites here in the Greater Pittsburgh region, it's time for you to team up with the experts here at Witt Pest Management to fully protect your house and your family!
Experience the Sentricon Difference - The Most Advanced Termite Baiting System!
To give you the most effective relief, our termite treatment uses the Sentricon® System with Always Active Technology. This bait system is designed to eliminate entire termite colonies, including the queen. We have undergone extensive training and met strict requirements to be Certified Sentricon® Specialists. Here's how it works:
We'll strategically place bait stations so that foraging termites can easily find them.
The bait, which is proven to be preferred over wood, is spread throughout the colony.
Worker termites that are responsible for finding food die first.
The colony can't sustain itself without workers and completely collapses.
Unlike traditional liquid treatments, the Sentricon® System doesn't require invasive digging or trenching. There are also no termiticides injected into the ground, which can lead to groundwater and well water contamination. Sentricon® also offers round-the-clock protection from future termite infestations, keeping you protected. While the most common termite in the Pittsburgh area is the Eastern Subterranean Termite, our treatment methods will keep you protected from all types of this pest.
SAVE $50 OFF YOUR FIRST TREATMENT!
6 Conditions That Make Your Home More Susceptible to Termites:
Termites cause thousands of dollars in damages to homeowners every year. To help prevent termites from eating away at your home, we've listed some common areas and conditions that make your home more desirable to termites.
Image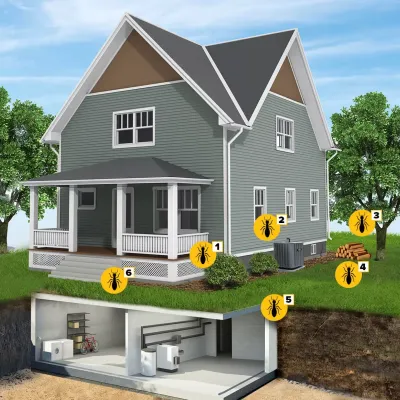 Cracks in Foundation: Over time, excessive moisture can produce small cracks in your home's foundation. Termites only need about 1/16th of an inch to get inside, so make sure to seal up any cracks.
Sources of Moisture: Other sources of moisture that could be attracting termites to your home include AC units, drainpipes, leaky faucets, and more. it is important to mitigate these sources of moisture to prevent termites.
Trees and Foliage: Trees and foliage around your home can add shade and beauty to your yard. However, they also provide termites with easier access to your home. Since tree roots are underground, they can perforate the foundation of your home. The closer that the tree is to your house, the more likely there is a direct path that termites have to use.
Firewood: While firewood itself doesn't necessarily allow termites access to your home, when it is stored directly against your home on the ground, it can lead termites to it. Termites are attracted to wood, so leaving it out and against your home can provide a good access point for foraging termites to start.
Basement and Crawlspaces: Basements and crawlspaces are also known for retaining moisture and humidity. It's important to take steps to reduce moisture in these spaces. One way to do this is with a dehumidifier.
Mulch: While mulch is useful for your flowers and plants, it can actually attract termites to your home. Mulch keeps in water, and termites are attracted to moisture. To avoid creating the ideal environment for termites with mulch, make sure to leave a gap between your home and the mulch so that they are not touching.
Signs of a Termite Infestation In Your Pittsburgh Home
It's not easy to determine if you have a termite infestation, but if you do, it's important to act fast. The sooner you notice these pests, the easier it will be to eliminate them and the less damage they'll cause. For more information, you can check out our termite identification guide. Common signs of a termite infestation here in Pittsburgh include:
Mud tubes: Brown, cylindrical tubes made of soil and wood that are often found on your home's exterior.
Hollow-sound wood: Termites typically eat wood from the inside out, resulting in pieces that look fine but sound hollow.
Discarded wings: Swarmers lose their wings when they land, leaving behind piles near windows and doors.
Peeling paint: Termites introduce excess moisture to your home, which can cause paint to peel and bubble.
Frass: Resembling sawdust or sand, frass is termite excrement that can vary from beige to black in color.
Our Guarantee
Should pests persist in between scheduled treatments, simply let us know and we'll re-service your home for no additional cost to you. That's our guarantee to you!
Image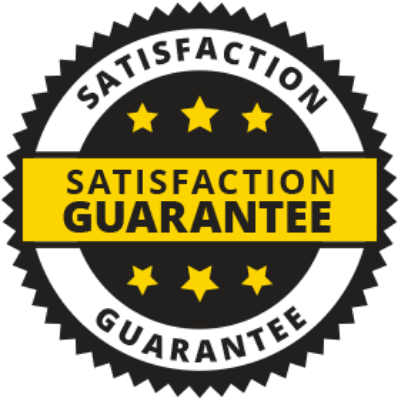 Service Areas
Termite Treatment Service Area
Witt Pest Management has been providing the best termite control in Pittsburgh since 1908. We're proud to help our neighbors achieve pest-free homes and can't wait to help you! We also service the following areas in Western Pennsylvania; see what termite services we offer in a city near you:
Image